英國首相約翰遜表態:「若國安法在港落實 將延長BNO簽證至12個月」
2020-06-08
英國首相約翰遜在《南華早報》撰文,指假若北京落實在香港實施「港區國安法」,將會與《中英聯合聲明》有直接矛盾,屆時英國別無選擇,為維護英方與港人的歷史淵源和友誼,容許任何持有BNO護照的港人在英國延長簽證至12個月,同時提供更多移民和工作等權利,令港人更容易取得公民資格。
轉載自 South China Morning Post, 作者 Stuart Lau
日期:2 Jun 2020
(以下為原文)
British Prime Minister Boris Johnson has promised Hongkongers "one of the biggest changes in our visa system in British history" if Beijing pushes through the national security law, he wrote in an op-ed published in the South China Morning Post and The Times of London on Wednesday.
In his first direct message to the former British colony amid the recent political furore, Johnson acknowledged that "many people in Hong Kong fear their way of life … is under threat" since the National People's Congress proposed the law last month.
"If China proceeds to justify their fears, then Britain could not in good conscience shrug our shoulders and walk away; instead
we will honour our obligations and provide an alternative," Johnson said.
"Britain would … have no choice but to uphold our profound ties of history and friendship with the people of Hong Kong."
Under the new British government plan – which will be put in place when Beijing formally enacts the law – every one of the
3 million Hongkongers who qualify for a British National (Overseas) passport and their dependents could relocate to the United Kingdom to stay and work or study for extendable periods of 12 months, creating a path to citizenship.
"This would amount to one of the biggest changes in our visa system in British history," Johnson said. "If it proves necessary, the British government will take this step and take it willingly."
According to Johnson, Beijing's moves on Hong Kong are in contradiction to what makes the city successful, and fall short of the standard expected of China's increasingly important role in the international community.
"Hong Kong succeeds because its people are free. They can pursue their dreams and scale as many heights as their talents allow," he said. The new law, however, would "curtail its freedoms and dramatically erode its autonomy".
"I also struggle to understand how the latest measure might ease tensions in Hong Kong," Johnson said. "I still hope that China will remember that responsibilities go hand in glove with strength and leadership.
"As China plays a greater role on the international stage – commensurate with its economic prowess – then its authority will rest not simply on its global weight but on its reputation for fair dealing and magnanimity."
Johnson also hit back at what he called Beijing's "false allegations – such as claiming that the UK somehow organised the protests", or attempts to cast doubt over the Sino-British Joint Declaration, which London says is a legally binding international treaty, a claim that Beijing denies.
Amid roaring demands for readjusting British-China relations among his Conservative Party members, Johnson attempted to convey a message of calmness and reassurance to Beijing. "Britain does not seek to prevent China's rise," he said. "On the contrary we will work side-by-side on all the issues where our interests converge, from trade to climate change. We want a modern and mature relationship, based on mutual respect and recognising China's place in the world."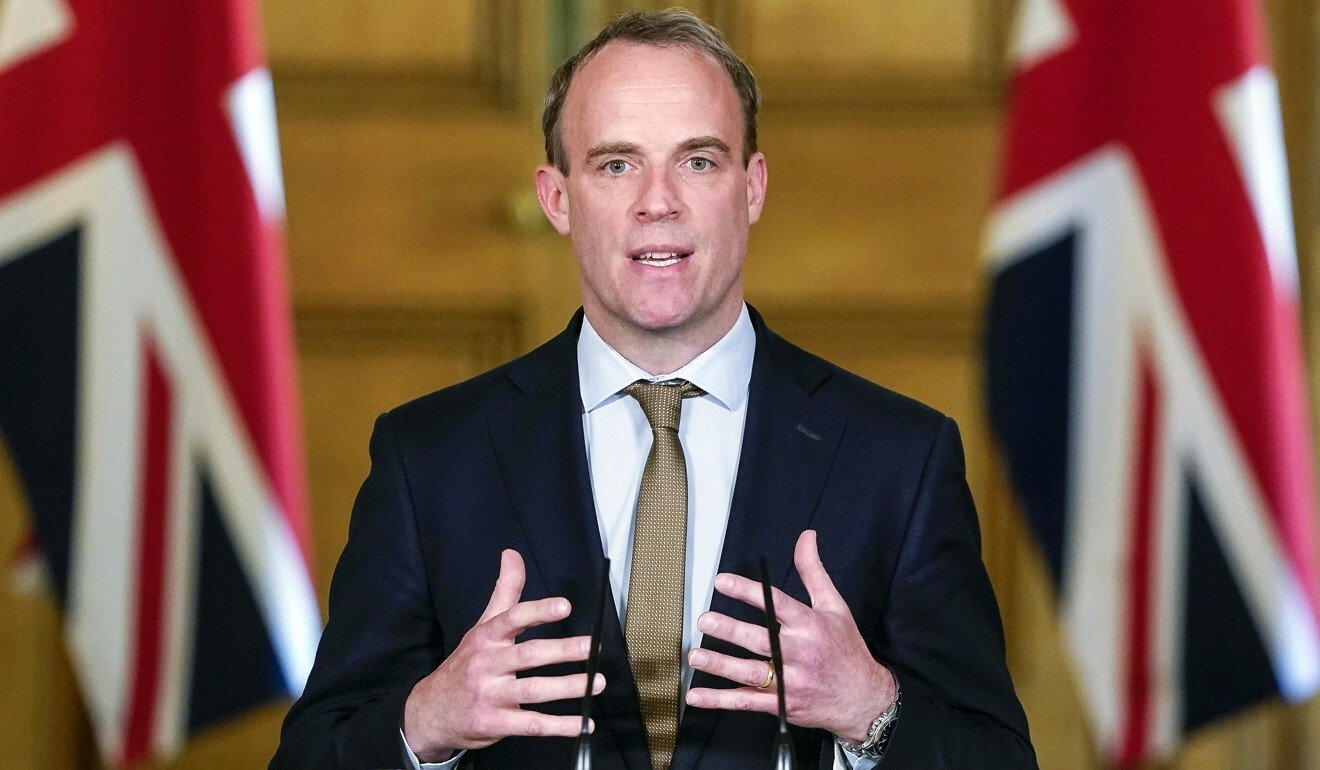 Earlier on Tuesday, British Foreign Secretary Dominic Raab told Parliament that Britain has been discussing "burden sharing" with the United States, Australia, Canada and New Zealand to handle an exodus of Hongkongers. Raab's revelation came after US Secretary of State Mike Pompeo said the US would consider ways to welcome Hongkongers after Beijing formalised the imposition of a national security law on the former British colony.
"If China follows through on this, the people of Hong Kong can come to the warm embrace of this country," Raab said.
The "principled and generous" proposal would create a "path to citizenship", Raab said, though he offered still no details about how many years they would need to stay to obtain British citizenship.
He said Home Secretary Priti Patel had been working with him on the plan since September. At the time, protests were escalating in Hong Kong against a now-withdrawn extradition bill.
Raab also told Parliament that he was working with other like-minded countries in the "Five Eyes" security alliance, which also includes the US, Canada, Australia and New Zealand, to build up a "groundswell of international support" for action on Hong Kong.
"We are already discussing with our partners in the … Five Eyes' call yesterday the possibility of, if I can say, burden sharing, if we see mass exodus from Hong Kong," Raab said, adding that such a scenario was unlikely.
He said he still hoped Beijing would change its mind, but added that Britain would not "turn away" from its historical and moral duties.
"Even at this stage I sincerely hope China will reconsider its approach," Raab said. "There is still an opportunity for China to step back – we think it's unlikely that would happen. But we will be absolutely steadfast in sticking to the words we have given to stand by the people of Hong Kong and not just look the other way."
Members of Parliament from the ruling Conservative Party, as well as the Labour and Scottish National parties, have all supported the government's plan to extend BN(O) rights.
Raab said the British action was in response to the Chinese government's breach of the 1984 Sino-British Joint Declaration setting out the rights and freedoms for Hong Kong.
Meanwhile, the chairs of foreign affairs committees at the British, Canadian, Australian and New Zealand parliament wrote jointly to Antonio Guterres, secretary general of the United Nations, calling for the establishment of a UN special envoy for Hong Kong.
"It is imperative that the international community move rapidly to ensure there is a mechanism for observing and transparent reporting on the impact of the new law on what are currently legal freedoms in Hong Kong," British MP Tom Tugendhat wrote in the letter, which was also sent to Johnson.
On Monday, Chinese ambassador to Britain Liu Xiaoming stressed the need for the national security laws in Hong Kong, and dismissed claims that China was suppressing Hong Kong protesters with the law.
"What is going on in Hong Kong is violence," Liu told Sky News. "It is a risk to the national security. … Any responsible government has to take measures."